Here is Friday's round up for you!
First up, these awesome DIY floor pillows. Guess what they are made from!? Old couch cushions! Clever idea. I'm not so sure my sewing skills could pull this off, but it's creative none-the-less.
I've seen this next DIY a few different times, but I love the way that this one turned out. It is individual mirrors glued to a board and gives the appearance of a window. It's interesting to look at, and the wood tone really adds warmth to the room. Love.
So, two things about the next photo -- the chair (I'm itching to use chalk paint on something) and the planter. Don't you just love the combo? I would have never thought to use that as a planter. It's super charmer, and I see those things ALL of the time at flea markets around town.
Blanking on what they are called at the moment...?
What a sweet vignette!
Bookshelves can be tricky. They can go from an eye sore to attractive by following just a few simple steps. Follow the link for styling tips. Doesn't this one look fab?
So, I totally dig the next two ideas, and I'll tell you why. The hubs and I share the same first letter. Lindze and Landon-- which means we are L&L which doesn't really differentiate between the two. For this reason I like the idea of using Mr. & Mrs. in our shared spaces like the bedroom...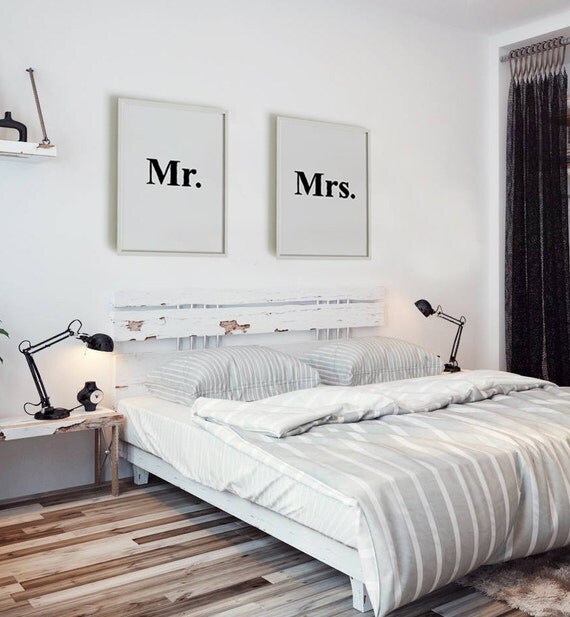 And bathroom...
Last up is a $72 office space. I love the shelves, in fact I have one just like them in my office. The bracket idea is so in these days. And this just goes to show you that it is possible to carve out a space in your home for an office. Plus, it doesn't have to cost an arm and a leg. Check out the details by following the link below.
With that said, I bought the paint for the hubs home office. I might just be hanging out in there this afternoon. Baking with my son and then painting? Sounds like a good Friday to me!